What is an FSC Promotional Licence?
A promotional licence allows an organisation to use the FSC trademarks promotionally, but does not allow it to apply the FSC trademarks to products or sales documents.
If you want to apply an FSC label to your products yourself and/or sell them with an FSC claim, or if you are involved in the processing or transformation of FSC-certified products (e.g. manufacturing, repackaging, pack-splitting, relabelling, cutting to size or adding other forest-based components to the product) you will need FSC Chain of Custody Certification.
Who is Eligible for a Promotional Licence?
Retailers that buy finished, FSC-labelled products and sell them on unchanged to end-users (e.g. the general public)
Organisations that wish to promote their use of FSC-certified products in their activities e.g. a company using FSC-certified packaging for their products
Consultants, training companies and investment organisations working within the environmental sector
Parent or holding companies that own several FSC-certified companies or branches
*Possession of a Promotional Licence does not allow a company to place the FSC label on a product it did not directly manufacture – this can only be done by an FSC-certified Chain of Custody company (e.g., the manufacturer). A trademark licence simply allows retailers to use FSC trademarks to promote the certified products it offers to its customers.
Why Get A Promotional Licence?
The Promotional Licence allows companies to use FSC trademarks in your marketing and advertising efforts including printed, training and point of sale materials, social media, video, websites, reports and more. With a promotional licence, you can:
 
Promote specific FSC-certified products wherever they are sold (POS, website, brochures, catalogue, etc.) as long as the products being promoted are properly labelled and sourced directly from an FSC-certified supplier. This includes use of FSC trademarked assets (logo, acronym, name, tagline, etc.) in any form of marketing promotion.
 
Assistance with promotional materials and campaigns. A promotional licence also allows retailers to engage FSC directly for help in developing content in promotional materials and campaigns.
 
Get listed in

FSC's

public global certificate database, which enables third parties of all kinds (consumers, businesses, media, etc.) to confirm that certification claims made by the trademark licence holder are verified.
As a company at the end of the supply chain, you can use FSC trademarks to:
Inform your stakeholders that you:

source for

FSC

-certified products;
use

FSC

-certified products;
sell

FSC

-certified products;
sell

FSC

-related services;
promote

FSC

-certified projects; 
invest in

FSC

-certified forests with verified ecosystem services, and/or

Build awareness around the importance of responsible sourcing, sustainable forest management, and

FSC, 

through an

FSC

-promotional licence programme, without having to obtain

FSC

-certification.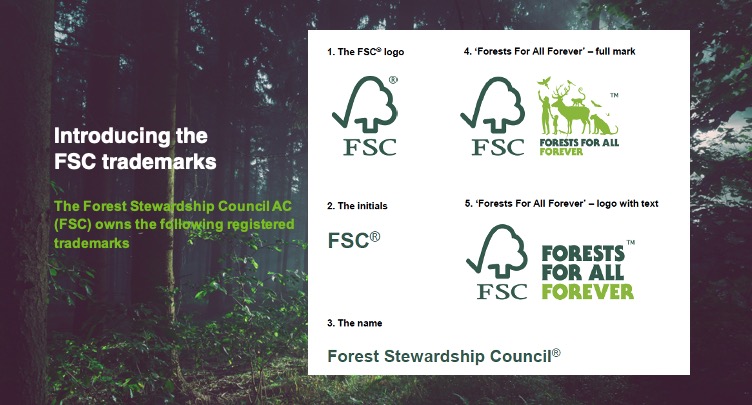 The use of FSC trademarks in such cases is limited to off-product (vs. on-product use by FSC-certificate holders), e.g. brochures, price-lists, catalogues, advertising, video content, sustainability/CSR reports, articles, corporate websites and other social media platforms, training materials, press releases, point-of-sale materials and more.
Examples of organisations that can use FSC trademarks under a promotional licence programme: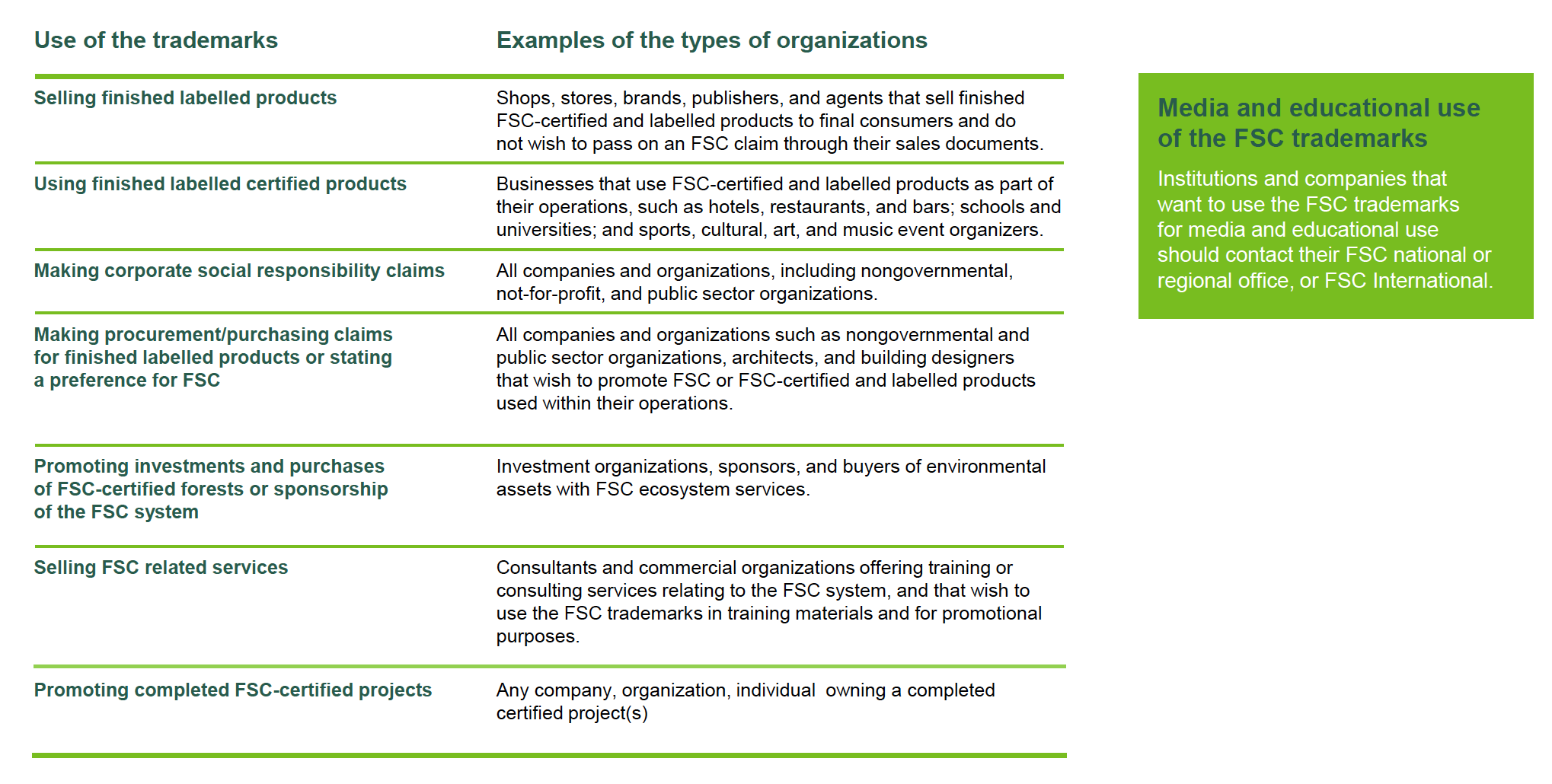 FSC Trademark Use by Promotional Licence Holders
Our trademarks include the initials FSC, the name Forest Stewardship Council, the FSC 'check-tree' logo, and the 'Forests For All Forever' trademarks. 
Our trademarks have been designed not only to promote the work of FSC and to inspire a love for forests, but also to enhance your brand and show your customers you care. This guide shows how FSC promotional licence holders can use our globally recognised trademarks for the promotion of FSC and FSC-certified products and services.
Steps to Become an FSC Promotional Licence Holder
Step 1
Contact your local trademark service provider where you wish to use FSC Trademarks. For Malaysia, please contact us at info@my.fsc.org to obtain an application form. 
Step 2
Complete the application form (information provided must be in line with official documents) and have the form signed by an authorised signatory. Provide documentation to show that the products you wish to promote are FSC-certified. We can advise you here!
Step 3
After verification process is completed, successful applicant signs a promotional licence agreement and receives:
access to  the FSC logo and other trademarks, 
unique licence number, 
full guidelines for the use of the FSC trademarks, and
access to FSC Trademark Portal and FSC Marketing & Communications platform.
Step 4
Promote with FSC trademarks (draft artwork and promotional text to be approved by trademark service provider before publishing). 
FSC Promoted via E-commerce Platforms
FSC is a participant of Amazon's Climate Pledge Friendly programme, which makes it easier for consumers to discover and shop for more sustainable products. The products on Amazon that carry the Climate Pledge Friendly badge, signify that the products have one or more of 19 different sustainability certifications.
FSC is the only certification system focusing exclusively on forest products that Amazon has selected to feature in the program.
For detailed information on the programme qualification criteria and to start shopping for these products visit the link below, or look for the Climate Pledge Friendly badge on qualifying products.